Eleven amazing puppies born 8/17/19, ready for field training for next year. Will make great family pets and dogs on the homestead or in the fields. Sire has MHR certification. Both parents come with OFA checks done with Excellent hip ratings from OFA and normal elbows. Dew claws done at 4 days, 8 females, 3 males. Chocolates, blacks, and fox red puppies in this litter. Health checks done on the puppies by licensed veterinarian. Health warranty and 30-day AKC pet insurance will be provided.
$200 deposit to be on the reservation list. Deposit counts toward final amount. Get your prize winners now to be ready for next year fun. Call/text 509-850-0454 for more info and pictures
About Tater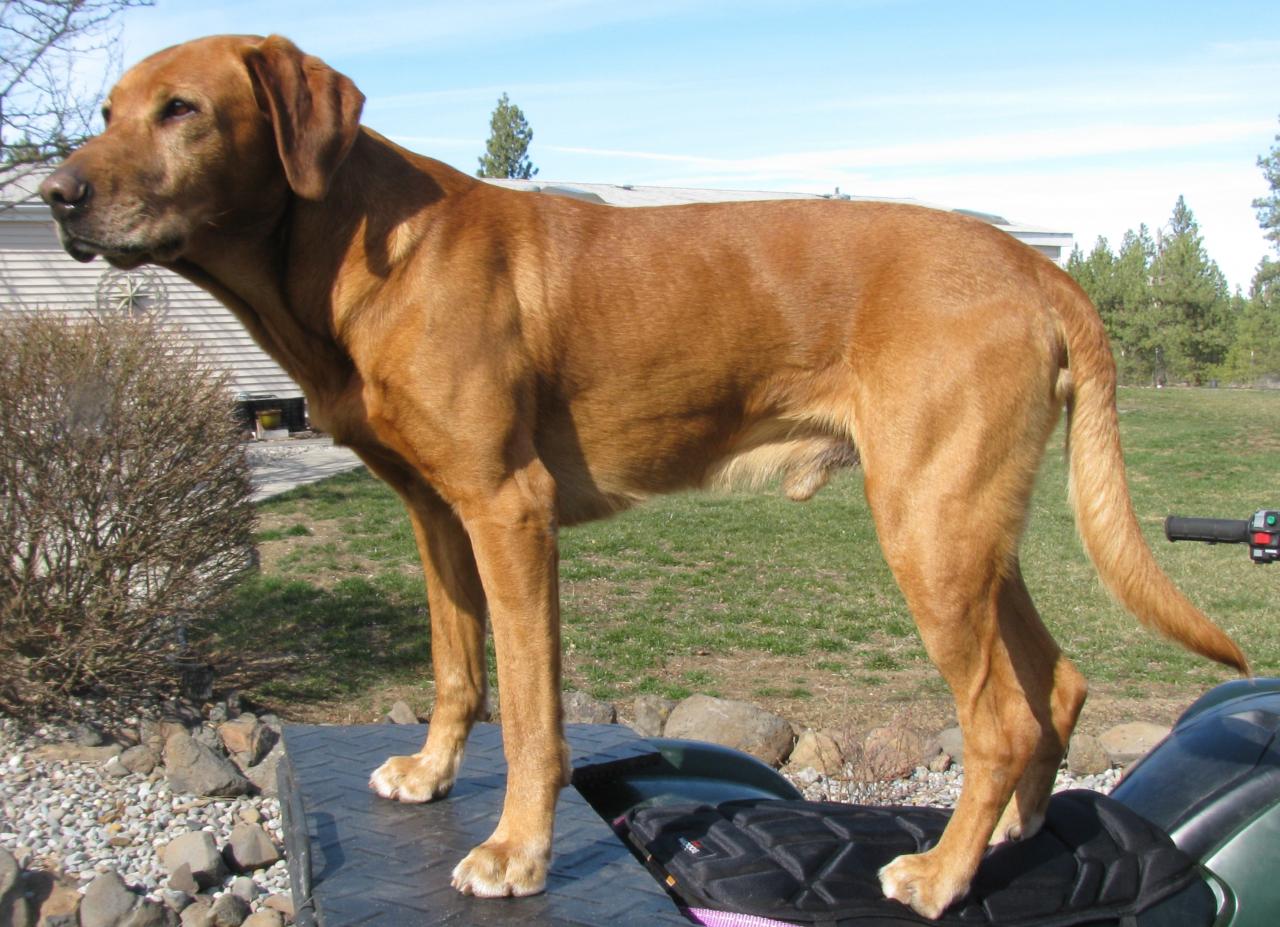 Tater would be best described as a lazy man's retriever, He is as low-maintenance as they come.  We spent less than a dozen days training last year.  He got his MHR and WR one week after his second birthday, both in the same weekend. He qualified in 14 straight NAHRA Senior tests, and 4 of 7 AKC Master Events. We do not train using an e-collar, simply because we dont need to. Tater currently has over 70 known, documented field titles in 4 generations and likely many more that we are not aware of.  His grand-father is Grand Master Pointing Retriever (GMPR MHR Rik's Risky Raider MH).  We run NAHRA (our favorite and most fun), AKC and HRC tests, and an occasional Qualifying AKC Field Trial.  He desperately wants to please and just melts when I express my dissatisfaction with him.  He was an only-puppy in his litter which makes it a surprise that he loves any and all animals regardless of their size, gender or species. He plays with the neighbors Yorkie just like a little puppy, and has never met an animal or person that he didn't like. He is a true lover-boy, enjoys cuddling, and he has an always-happy disposition. He went completely through force-fetching in less than a week in just 4 sessions.  Two sessions on the bench, one session on the lawn and one to a pile. And we were done. We went directly into handling drills from there.  He shares my passions of hunting, fishing, boating, riding the 4-wheeler, and I recently built a trailer to pull behind my bike so he can ride behind the Harley to our Retriever Events together, and in style.  He literally loves to be in the wind with me.  His passions in life are equivelent to that of a 12 year old boy.  He is completely at home curled up on the couch, on our bed, working row crops and CRP  pheasant hunting in South Dakota, where we go every November for a couple weeks, or patiently sitting in the duck blind working Mallards. He maintains a constant 80-85 pounds year around. He is EIC & CNM Clear with Excellent Hips, Normal Elbows, current CERF and has historical sperm counts in excess of 1 Billion live, healthy sperm cells per dose.